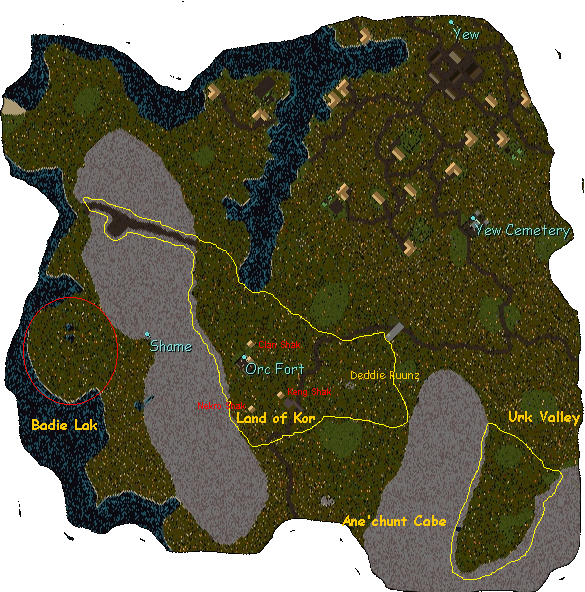 Land of Kor

---
Kor has declared the land immediately surrounding the Yew Orc Fort, as the Land of Kor. We make regular patrols of the Land of Kor to engage any other Urks (NPC orcs), monsters (badies) or animals (crits) in our way. Should the patrol meet a humie on Clan land, then the patrol will either kick the humies off, or collect a tribute and allow them to visit for a short time. All 'crits' in the Land of Kor are property of the Clan. Humies are not allowed to hunt on the Land of Kor, without permission. If humies are caught hunting without permission, they will be asked to give up all meat and hides they obtained. They will also ask the humie to pay a further tribute, or asked to leave. Refusal to do any of these things are grounds for clomping the humie (roleplay the clomping if the human is blue and refuses to roleplay, then ignore him). These ignorant humans are often wind up being prey of the Orc Bloodlusters.

Currently, the Clan has possession of serveral shacks around the Land of Kor territory: Clan Shak, Keng Shak and the Nekro Shak.

Ork Fort

---
We live at the Yew Orc Fort, which we have claimed from the urks. The fort is referred to as the Ork Fort. When the Orcs are not actively hunting or patrolling the lands, you will find them in here. The fort has greatly assisted in providing defense against attacks from orc enemies.

Urk Valley

---
This is the hunting grounds of our ancestors, which has been taken over by urks and humies. Many of our ancestors spirits still wander the valley. We often take large patrols into Urk Valley, to kill our less gifted brethren and to provide warnings to humies that someday we shall return to claim our ancestorial land.
Ane'chunt Cabe

---
This recently discovered cave was the ancient lair of our ancestors. It has since been overrun with urks. Large orc leaders called Orc Brutes are often found within, directing battle plans and an emmense ore mining operation. We also make regular raids here to keep the urk numbers down. Someday, we will reclaim these caves to honor our ancestors.

Badie Lak

---
This is the training ground for the more experienced Orcs. There are lots of mean, majuk using badies there. There is also an entrance into a deep cave the humies call Shame. In it, the elements of earth, air, fire and water majukly combat all who enter. That cave is the ultimate training ground for our senior ranks.

Deddie Ruunz

---
Within those old stone ruins, walk fearsome undead creatures called liches. We have no use for these deddies and do out best to try to keep them off our land. Humies also enjoy hunting these, and often you will find humans at the ruins. This is a good place for collecting tributes, and for clomping humies that do not pay. This is a favorite hunting ground of the Orc Bloodlusters.

Other Scenarios

---
We do make regular raids on the human savages to collect orc masks and bolas for the clan. They pose a great threat, and are very deadly. This is one human menace that we will ensure does not get out of control.